On July 12th– July 15th, 2023
Love Borough is an opportunity for the church to experience the book of Acts and to grow in hunger to live a lifestyle of intimacy and mission; to do what we were made to do – to know God and make Him known throughout the chosen borough for the year. We move this event around the five boroughs. Each year we seek the Lord where He wants us to go.
This year Christian Pentecostal Church on 900 Richmond Rd, Staten Island NY 10304 will be hosting the city-wide altar of worship and prayer in Staten Island. Prior to entering the building, a greeter will be at the door to check you in, inform you of outreach schedule and answer any questions.
Training for City Wide Outreach
Love New York 24/7 Training
Love New York training is an opportunity to grow in partnering with the Lord to invite people into the Kingdom of God and is required for anyone who is going to be participating in Love New York outreaches. The training begins with an extended worship experience followed by practical training on Spirit-led ministry as well as outlining how the Love New York outreaches and prayer room work.
Sign Up & Attend a Training
After you sign up for the Summer 2023 Citywide Outreach you will get a link inviting you to a Love New York training.  Evangelism Training will be held this year on May 7 and a shorter training at the launch on Wednesday , July 12 at 6PM at Christian Pentecostal Church 900 Richmond Rd Staten Island NY 10304. At the training, you will be given a list of outreaches that you can sign up for.  We are strongly suggesting that everyone sign up for the launch event, 6 PM Wednesday, July 12, 2022, which will be held at CPC 900 Richmond Rd Staten Island NY 10304 and the final event on Saturday, July 15 in South Beach and then choose other outreaches in between.
You will report to the info desk, and the front of house team will check you in.  If you have not completed training prior to arrival, you will be able to watch it online after the launch outreach. You do not need to complete the training to participate in the event.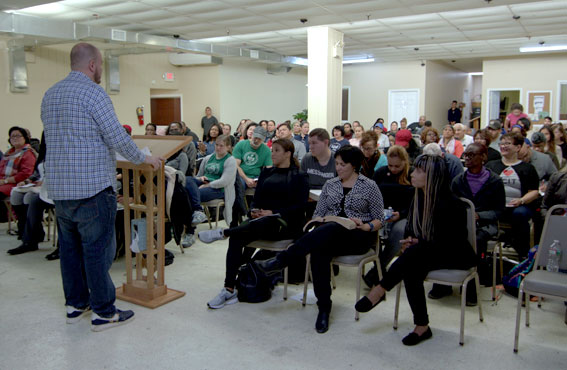 After you have completed training you will get a Love New York wristband. If you are wearing a wristband you will no longer need to check in at the info desk.
After you have checked in you will report to the briefing room.  There you will be given instructions by the outreach leader. After your briefing is complete you will partner up in teams of two.  We want to intentionally partner those who are stronger messengers with those who don't yet have confidence sharing their faith. Teams will pick up evangelism materials in the ammo area and then move to the prayer room.
Teams will spend time in the prayer room (less depending on how far away your outreach location is) and connect to the heart of God.  The prayer room will be staffed with live worship teams and prayer leaders engaged in two-hour sets around the clock. This year the prayer room, at Christian Pentecostal Church on 900 Richmond Rd, Staten Island NY 10304 will be open Wednesday, July 12th 7 PM to Saturday, July 15 8 AM. On July 15th we will move the worship and prayer outside to South Beach meeting at Freedom Circle next to the Fishing Pier, Parking Lot 6, from 10 AM-8 PM.
After your time in the prayer room, your teams will move to the outreach location either in personal cars or in transportation provided by Love New York.  Teams will do outreach for approximately two hours and then return to the Mission base to debrief.
We are asking everyone who is part of Love New York to pray about giving a free-will offering to support paying for the expenses of the outreach.
SIGN UP NOW
Love New York 24/7 Training
In addition to these live training events we encourage those who want to grow as messengers of the gospel to attend Sent One or Compelled by Love trainings.